Spring cleaning can be totally overwhelming — there are so many jobs to be done, and most of them are labor- and time-intensive. If you're a person who doesn't know where to begin with your spring cleaning efforts, even those spring cleaning checklists can feel like too much. So to help you get started and to stay focused, we've broken spring cleaning down room by room, suggesting two to three deep-cleaning jobs to consider for each. Even more importantly, we've talked to experts about the tools and cleaning agents that will make heavy-duty cleaning faster and easier, and about some surprising spring cleaning uses for home appliance stalwarts like your vacuum and washing machine. After a long winter, the bedroom can take on a stale feeling, so focusing your spring cleaning efforts on freshening up will lead to a big payoff in the end.
Even if you're diligent about regularly laundering your bedsheets, laundry will play a big role in spring cleaning the bedroom. Mary Begovic Johnson, a principal scientist at Tide and Downy, points out that sheets aren't the only textiles that take on dirt and odor over time. "People don't always think to wash the other textiles on or around their beds like bed skirts, shams, throw pillow covers, blankets, comforters, stuffed animals, throw rugs, laundry bags and even the pillows themselves!"
As Josh Mutlow, a design manager at Dyson, points out, "We spend almost a third of our lives in our beds, but we very rarely give any attention to how clean our mattresses are." Of course, you can't just toss a mattress in the washing machine, but you can use another household appliance to give it a good spring cleaning: your vacuum. Mutlow suggests using a motorized attachment, such as the Dyson Tangle Free Turbine tool, to pick up hair, dust, pollen and other allergens that build up in the bedroom.
See more of our favorite handheld vacuums here. Let's face it: Deep cleaning the bathroom can be a real chore of a chore. But there are some miracle products that will do a lot of the work for you, sparing you time and elbow grease.
For mold and mildew: X-14 Mildew Stain Remover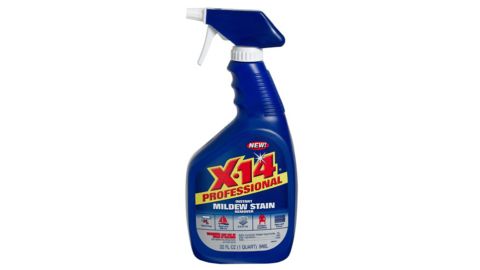 X-14 is a heavy-duty cleaner that eliminates mold, mildew and Serratia marcescens, that pinkish/orange shower scum that collects around drains, grout and caulk. simply spray the product on the moldy surface, allow 10 to 15 minutes to penetrate and eliminate the bacterial growth and rinse the area clean. The living room is a great place to let machines do a lot of the spring cleaning for you, from freshening up furniture to cleaning those ceiling fans.
As with mattresses, we spend a lot of time on our couches and sofas and often overlook the need to clean them. (Every month!) Cordless models make vacuuming oversized and bulky items less cumbersome, but cordless models can lack the motor power of their corded counterparts, which is why Mutlow suggests Dyson's V15 Detect, which has the most suction power of any cord-free vacuum on the market. In the kitchen, spring cleaning jobs tend to fall into one of two categories: major purging — decluttering and reorganizing spaces like the pantry, or the cabinet where you store your food storage containers — and major appliances, which we tend to put off cleaning because, let's be honest, we tend to dread jobs like cleaning the oven or refrigerator.